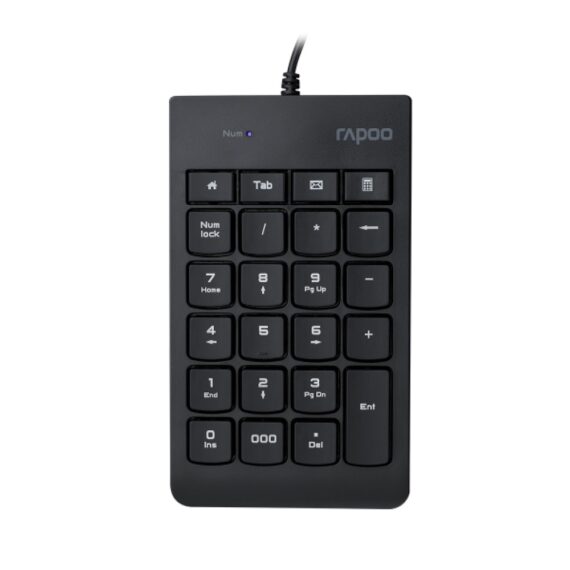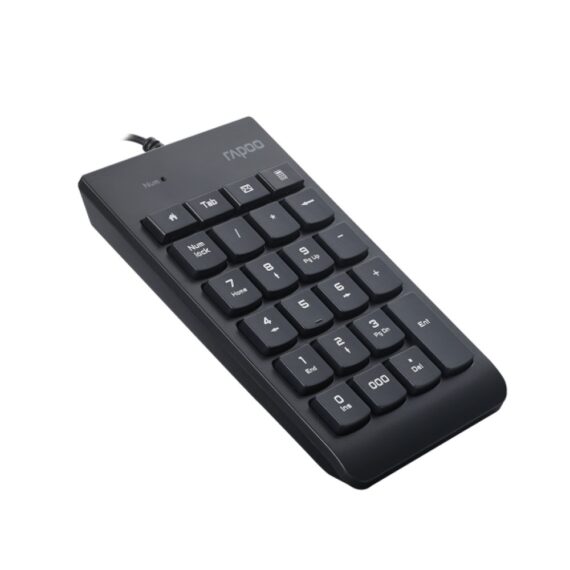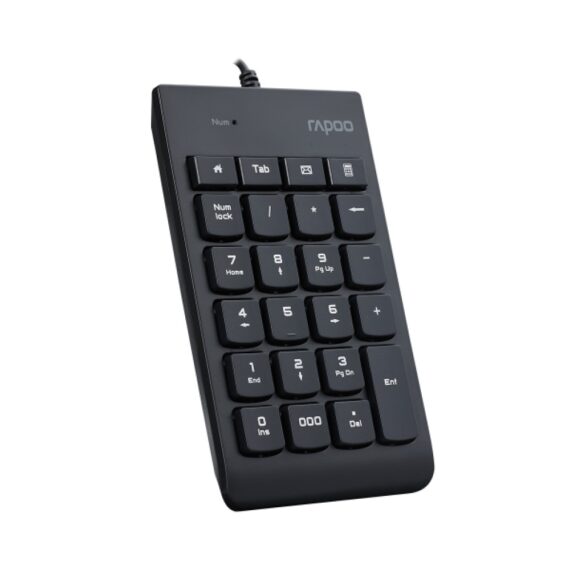 Rapoo K10 Numeric Keyboard 19909
The Rapoo K10 Wired Numeric Keyboard is a compact and convenient addition to your computing setup. Its responsive keys make data entry and calculations a breeze. This multi-functional numeric keypad is ideal for people who work in finance, accounting, data-entry, etc. With features like plug-and-play installation, durable laser-carved keycaps, multimedia keys, non-slip silicone, wide compatibility, and an ergonomic design, the Rapoo K10 ensures every keystroke is a breeze.
Filter Category :
new arrival
Enquire Now
Description
Plug and Play
Rapoo K10 does not need driver installation, battery, or complicated setups. It's as simple as plugging it in and using it instantly. Connect it via USB, and you're ready to get an instant productivity boost.
Multimedia Keys: Control at Your Fingertips
Take control of your multimedia experience with the K10's dedicated multimedia shortcut keys. It's equipped with a Tab button, delete button, three multimedia shortcuts, and one key to access the web, mailbox, or calculator for added convenience.
Quite Data Entry
Enjoy a typing experience with the integrated ergonomic slightly tilted design of the K10, which helps reduce strain and boasts comfortable and almost quiet keystrokes, making your typing sessions more pleasant and less disruptive. Whether working in a busy office or a quiet library, your keystrokes won't disturb others.
Laser Carved Keycap is Wearable and Durable: Built to Last
The laser-carved keycaps of the K10 are not just durable; they're designed with lease engraving technology to be wear-resistant, so they are not easy to rub off. Enjoy a reliable keyboard that looks great even after years of rigorous data entry.
Easy to Carry
The K10's compact design and light weight make it easy to carry anywhere. Whether you're on the move or need a reliable numeric keypad for your laptop, the K10 is your portable partner to give you that extra boost in productivity wherever you go.
Non-Slip Rubber Feet
The K10 features large, non-slip silicone feeton the bottom that keep it securely in place, even during intense typing sessions. It ensures your keypad'sstable operation during your usage.
Wide Compatibility: Universally Versatile
The K10 is compatible with a wide range of devices and operating systems, making it adaptable enough to work with your laptop and desktop with different Operating Systems. 
Enjoy the simplicity of plug-and-play installation, the durability of laser-carved keycaps, and the convenience of multimedia keys with the Rapoo K10. Your numeric keyboard is your key to a comfortable, quiet, and reliable typing experience. Whether crunching numbers, entering data, or controlling your multimedia, the K10 enhances every keystroke.
Specification
Product ID: 19909
Dimensions: 15.1 × 8.8 × 2.6 cm