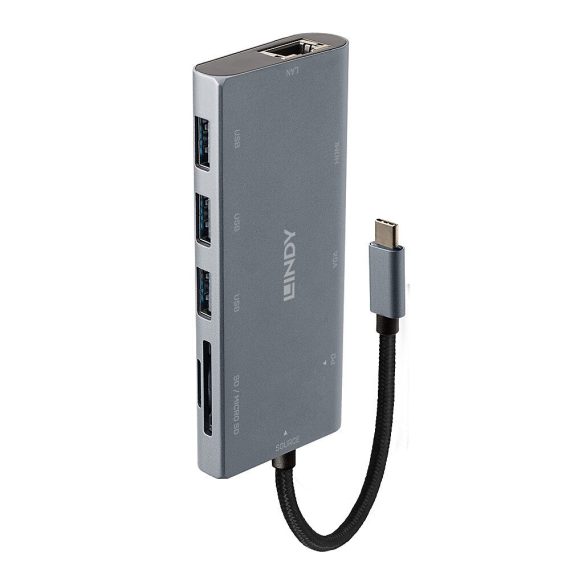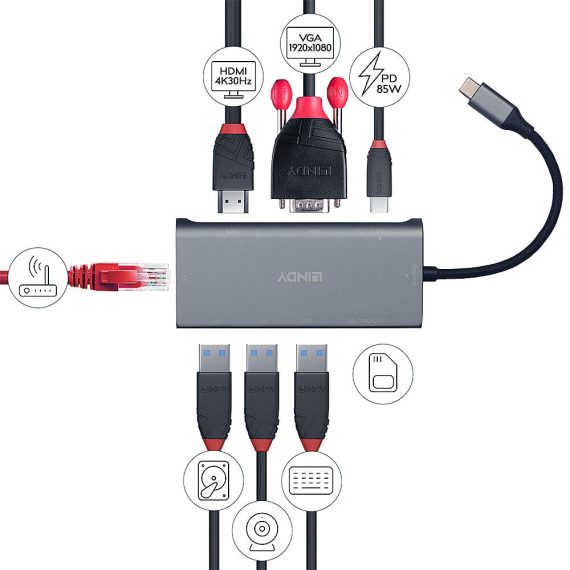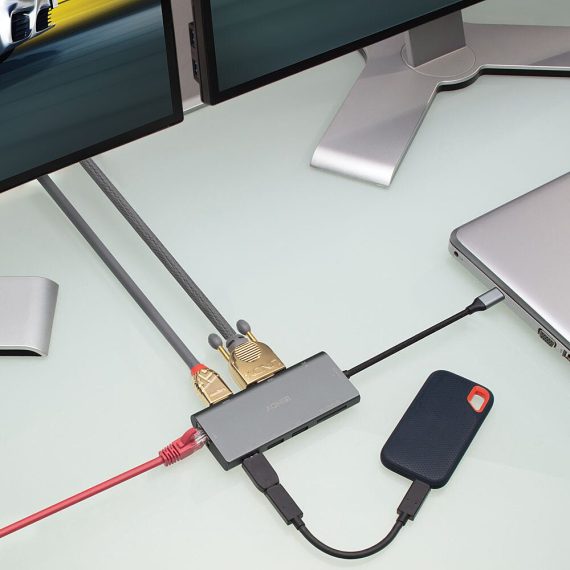 Lindy 43278 USB 3.1 TYPE C Multi-Port Converter
Lindy 43278 is a DST-Mini Plus with VGA is a compact, multifunctional solution for hybrid workers. Housed in a robust aluminium with a high-quality braded USB-C cable, this dock has been designed for durability during travel.
Enquire Now
Description
Adds 3 USB 3.2 / 3.1 Gen 1 / USB 3.0 Type A ports, an HDMI and VGA port as well as a Gigabit Ethernet port to a laptop
Supports 4K UHD 3840×2160@30Hz for HDMI displays and Full HD 1920×1080@60Hz for VGA displays
Features DisplayPort Alternate Mode
Allows up to 100W charging using USB Power Delivery 3.0
2 year warranty
With support for HDMI and VGA, this product is ideal for those who have a legacy monitor they wish to plug their device into.
Extended Displays
This docking station can support a 4k extended display at 30Hz or 1080p Full HD 60Hz via its HDMI port. It does this through a single USB-C connection using DisplayPort Alternate Mode. Alternatively, you can access crisp 1080p Full HD via the legacy VGA connection. If both video outputs are connected, 1080p Full HD is possible with the displays showing mirroring content.
Versatile
Providing three SuperSpeed USB Type A ports (5Gbps), (Micro-) Card Slots, USB-C PD, Gigabit Ethernet, VGA and HDMI, the DST-Mini Plus unlocks a world of connectivity for your device. With a single USB-C connection, you can connect USB accessories such as keyboard and mice as well as expand your storage and take advantage of a lightening quick wired Ethernet connection.
Pass-through Charging
Thanks to the USB-C Power Delivery, by connecting a USB-C charger to the docking station you can expect up to 100W charging to any connected laptop (depending on the USB-C charger and how much power the dock is using). Simply connect one USB-C cable and be confident that all your connected device will be fully charged and ready to go.
Specifications
Product ID: 43278
Interface: USB Type C to 1x VGA / 1x HDMI / 1x RJ45 / 3x USB 3.0 Type A / 1x microSD / 1x SD
Interface Standard: USB 3.1 Gen 1 / USB 3.0, VGA, HDMI, Gigabit LAN
Supported Bandwidth: 5 Gbps, 10/100/1000Mbps
Maximum Input Resolution: 3840×2160@30Hz
Maximum Output Resolution:
3840×2160@30Hz (HDMI), 1920×1080@60Hz (VGA)
simultaneous connection with the same video content: 1920×1080@60Hz each (VGA / HDMI)
Chipset: RTL8153B, EP9632G, GL3510
Compatibility: USB Type C or Thunderbolt 3/4 equipped computers with DisplayPort Alternate Mode support. Windows, macOS, Linux, Android, ChromeOS.
Power Delivery: PD 3.0 up to 100W (20V 5A)
HDCP Support: HDCP 1.4
Supported Audio: –
Seperate Audio Ports: –
Special Features: DisplayPort Alternate Mode
Connectors
Inputs: 1 x USB Type C (Male)
Outputs: 1x USB Type C (Female), 1x VGA (Female), 1x HDMI (Female), 1x RJ45 (Female), 3x USB Type A (Female), 1x SD slot, 1x microSD slot