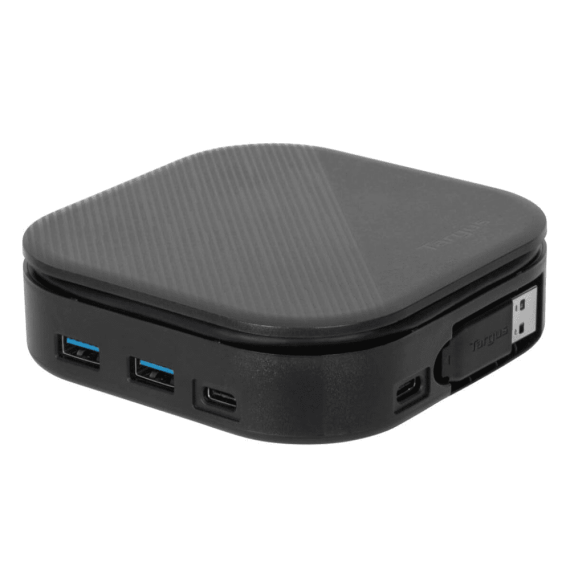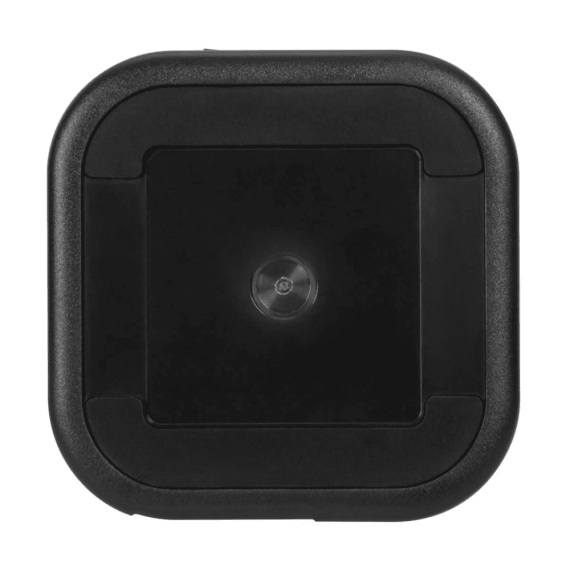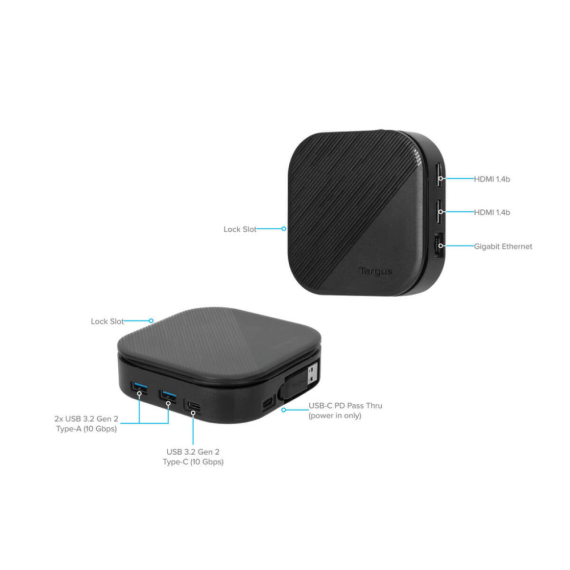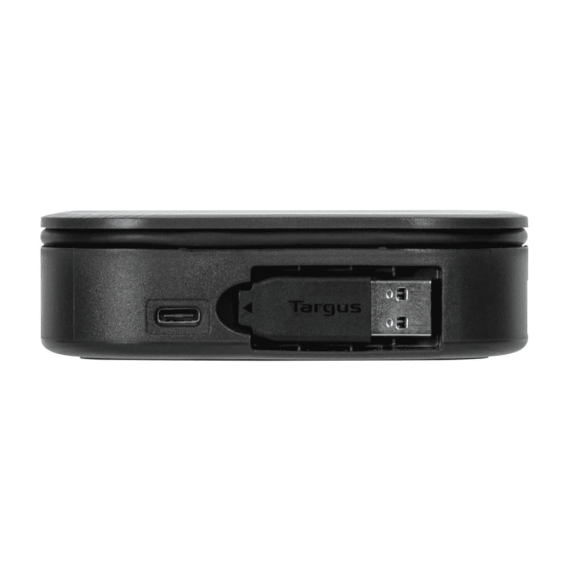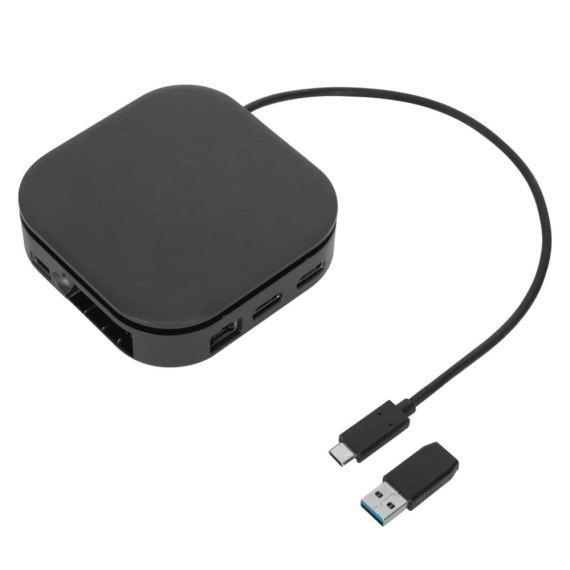 Targus DOCK116GLZ USB-C Universal Dual HD Docking Station with 80W PD Pass-Thru
Targus USB-C Universal Dual HD Docking Station with 80W PD Pass-Thru is a compact, lightweight docking solution for on-the-go.
Enquire Now
Description
Streamline your on-the-go workspace with Targus® USB-C® Universal Dual HD Docking Station with 80W PD Pass-Thru. Its stow-away host cable, compact, lightweight design makes it easy to slip into the pocket of your backpack or luggage, and ensures it doesn't take up valuable working real estate if you're working remotely. A rubber-padded bottom provides grip so the dock stays in one place. Equipped with DisplayLink® technology, this tiny dock offers compatibility with most laptop brands and supports single 2K 2560 x 1440 video or dual HD 2048 x 1152 video via HDMI. Additionally, it comes with a USB-A host adapter so you can use it with new or legacy laptops.
This flexible and powerful dock offers multiple ports – an Ethernet port, 1 USB-C port (10 Gbps) and 2 USB-A ports (10 Gbps) – to accommodate your essential accessories like a mouse, keyboard, or hard drive. Top that off, the DOCK116GLZ is the smartest travel dock you'll need to stay connected, powered, and productive while on the road. With 80W power pass-thru**, keep your host and other devices charged while connecting your power supply to the dock. Or simply plug your dock into the host for the computer to do all the charging – no AC adapter needed.
Innovative Design
A compact, lightweight design makes this dock ideal for travel and easily fits into the pocket of your backpack. Its tethered stow-away cable management keeps messy wires at bay. For ultimate flexibility, it's host bus-powered or you can connect a USB-C® power adapter to the dock (power adapter not included) to pass-thru and power the host. Perfect for those laptops with only a single USB-C port.
Truly Universal Compatibility
Unlike proprietary docking solutions that lock users into a specific platform, brand, or even model of laptop, this utilises DisplayLink® technology for maximum compatibility. That compatibility eliminates the need to replace it at every laptop refresh, which translates to lower cost of ownership for higher productivity over a longer time. The DOCK116GLZ is compatible with both Windows® and macOS®, plus other operating systems.
Supports Dual HDMI Monitors
Create a picture-perfect dual display set-up on both PC and Mac. With two HDMI ports available, you can enjoy dual HD (2048 x 1152) displays via HDMI or opt for a single 2K (2560 x 1140) connection.
Connect Your Favourite Accessories
With 2 USB-A ports (10 Gbps) and 1 USB-C® port (10 Gbps), it's simple to add the latest keyboard, external drives, and other peripherals to customise your travel workspace experience.
Specifications
Product ID: DOCK116GLZ
Connection Technology: USB 3.2 G2
Host Port Compatibility: USB-A & USB-C (with Adapter)
Works With: Windows, macOS, ChromeOS, Android, Ubuntu
Ethernet: Yes
Max Host Power: 80W Pass-thru
Power Source: Pass-thru
HDMI: 2
Total USB-A Ports: 2 Total
USB-C Ports / 3.2 Gen 2: 1 + 1 Pass-thru