TP-Link Tapo L920-5 Smart Light Strip, Multicolor
Stunning Light Effects Designed Your Way with Tplink Tapo L920-5 Smart Light Strip, Multicolor
Enquire Now
Description
Multiple Color & Effects – Control 50 separate color zones and bring vibrant joy to your life.
External Protection – Easy maintenance and extended lifespan thanks to PU coating.
No Hub Required – Connect to your home's secure Wi-Fi network. No need for a hub or extra equipment.
Flexible Installation – Cut it to whatever length you want and attach it to any surface with the 3Madhesive.
Preset for Convenience – Found your favorite lighting for watching movies? Save it as a setting you can simply select for future movie nights.
Schedule & Timer – Create schedules and count plans to turn on/off with the brightness/color you set.
Away Mode – Simulate someone being at home to frighten away, unwanted visitors.
Connect It Your Way – Use it with your smart assistant, a hub, or connect directly to the Tapo App. Control the Light Strip however you want.
Voice Control – Use simple voice commands to control your light strip with Alexa or Google Assistant.
Specifications
Product ID: TAPO L920-5
Product Dimensions: 5000×10×3.0 mm
Certification: CE, RoHS
Operating Temperature: -15 ºC~ 40 ºC
Operating Humidity: 10%~90% RH, Non-condensing
Weight: 564~649 g
Packaging Dimensions: 231.5×68.5×204.5 mm
Power Consumption: 20.5 W
Communication
Wi-Fi Protocol: IEEE 802.11 b/g/n
Wi-Fi Frequency: 2.4 GHz
Wi-Fi Requirements: Secured Wi-Fi connection
Working Status
Input voltage: 220-240 V, 50/60 Hz
Output voltage: 12 VDC, 1.5 A
Input Power (Actual power draw in Watts): 20.5 W
Dimmable: 1%-100% (via app and cloud only)
Bounce to the Music and the Lights
Pick up sound through your mobile and set up the perfect atmosphere and lights will sync to the beat
Dazzling Animations
Dazzle your guests with dozens of animated effects such as uplifting Rainbow or soothing Raindrop.
16 Million Colors
Endless possibilities are at your fingertips with 16 million vibrant and fully dimmable colors.
50 Color Zones
Experience a truly customized LED light strip by controlling the color across 50 independent zones.
Long Length LED Lights
Ideal for the kitchen, stairs, or ceiling, the 16.4 ft strip is trimmable.
High-Performance Strips
Our LED beads shine brighter and are built to last even with continuous use.
Grouping
Group with other Tapo Smart devices for instant ambiance or one touch on/off.
Create Shortcuts
Take movie night to a whole new level with a single tap or a few words.
Voice Control
Control with voice using Amazon Alexa or Google Assistant.
App Control
Control from anywhere, anytime via the free and intuitive Tapo app.
Tactile Click Control
Use the manual controller to turn on, off, and change the color, or double click through presets.
A Durable Light Strip Designed to Last
Featuring durable high-quality PU coating along the length of the LED strip, enjoy IP44 protection from moisture and dust so you can deploy with peace of mind. Backed by 22 years of creating exceptional products, Tapo products are built to last.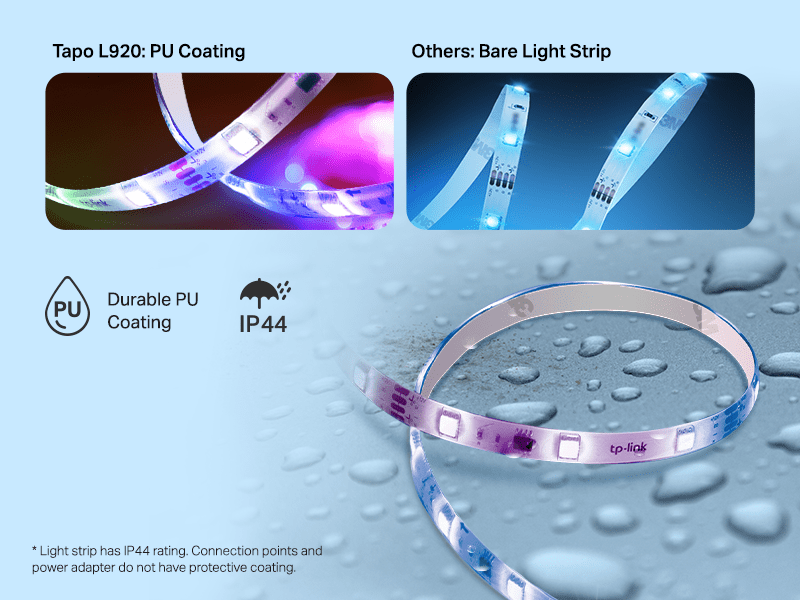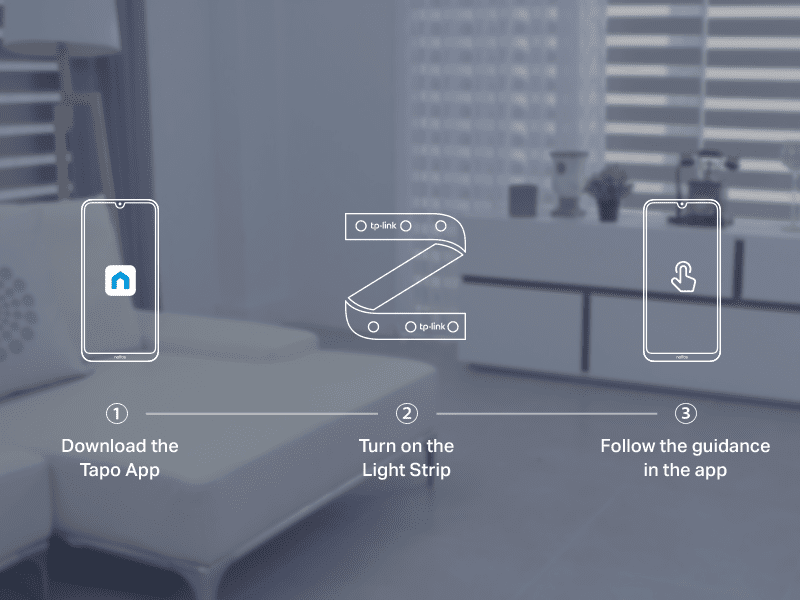 Setup in minutes by following the 3 easy steps.